June 2019 - JaeSeung Song is the Vice Chair of oneM2M's Technical Plenary (TP). He is an associate professor, leading the Software Engineering and Security group (SESlab) in the Computer and Information Security Department at Sejong University and a researcher at the Korea Electronics Technology Institute (KETI).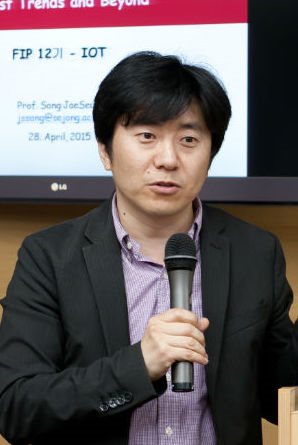 Q: Would you begin by talking us through your research interests and work within oneM2M?
JS. My research interests cover several areas including software engineering, Smart Cities and vehicle-to-everything communications. I focus on design and engineering issues. This includes reliable Internet of Things (IoT)/M2M service layer platforms, particularly in the context of semantic IoT data interoperability, secure software patch techniques and machine learning.
In addition to holding a TP Vice Chair position, I also chair a local oneM2M mirror group for Korea's Telecommunications Technology Association (TTA). TTA is a founding partner of oneM2M and my role is to provide a visionary direction about IoT service layer platforms, both to the oneM2M group and to Korean oneM2M members.
Q: How is the adoption of IoT and oneM2M progressing in Korea?
JS. The three telecom operators in South Korea (Korea Telecom, LGU+ and SK Telecom) launched their IoT services based on oneM2M Release-1 standards in 2016. At that time their IoT platforms were all certified by TTA as meeting the oneM2M standards. This means their products and services can interwork with each other on a oneM2M based platform supplied by different vendors.
In addition, the South Korean Government designated oneM2M as a standard for service layer platforms in newly deployed Smart Cities across the country. As oneM2M was specifically mentioned in the Smart City call for proposals, three Smart Cities (Busan, Daegu and Goyang) applied oneM2M standards for their service layer platforms. Examples of their IoT services included: 'safety service for the socially vulnerable', 'smart missing-child
prevention service', 'smart parking', 'smart street lighting', 'smart crosswalk', 'smart maritime safety', 'smart store management' and 'smart building
energy management'.
However, as has been the case the rest of the world, the local IoT market has not yet fully taken off. There are no decisive services, maintenance costs are high, and customisation is difficult. Over time, common approaches and standardisation will have a positive impact on these issues.
For the time-being, IoT service providers have been hesitating over their business strategies. They are being cautious in reaching agreements with other IoT service providers. This is problematic for IoT service continuity and interoperability, even though we know that this is technically feasible.
Nevertheless, the IoT sector continues to get a lot of attention from the government and industry as a whole. One reason for this is because IoT is a fundamental technology that enables Artificial Intelligence (AI) applications. Another reason is that IoT is considered a promising solution in its own right to solve conventional Smart City problems such as waste management and environmental monitoring. In fact, this is one of the drivers behind a new CityHub project.
Q. So, tell us a bit more about the scope and objectives of CityHub?
JS. As I outlined earlier, the South Korean Government invested in three large scale, Smart City trials based on the oneM2M standard. All three trials generated very good results and showcased the feasibility of using IoT technologies in Smart City situations.
Through the trials, the national government also learnt about various challenges, including the importance of semantics, the need for a data-centric platform and the lack of supporting Smart City enabling technologies (such as Complex Event Processing and Blockchain). To tackle these issues, the government started CityHub in 2018, a 2nd phase large-scale Smart City project framework.
CityHub will have a project life of five years and a budget of around $116 million. To put this into perspective, the South Korean Government is planning to spend 3.7 trillion KRW ($3.3 billion) to build the country's innovative Smart Cities.
The CityHub vision is to develop a data-centric Smart City with the aim of improving the quality of city life and enabling a sustainable city environment. This includes three stages: the development of core technologies between 2018 and 2019, validation of core technologies in trial cities between 2020 and 2021 and commercialisation and dissemination by 2022.
The new project is all about developing a new Smart City data framework. The aim is to collect Smart City data from various sub-systems, share data with citizens and manage data via a city data hub system.
Q. What are some of the issues that CityHub is aiming to address?
JS. The project is all about managing data and providing various tools and technologies that will enable services to use data from CityHub. At this moment, six cities will be involved in validating core technologies through use case challenges that local states specify. For example, public and private smart parking information will be shared with the public using blockchain technologies. There will be several shared-service applications, such as, car sharing, electric vehicles and auto-electric scooters.
Another city plans to use 5G and data analytic technologies to help citizens make decisions about various city life activities (such as, where to eat, where to play, where to go and where is a quieter location). These use cases are being put forward by various challenge teams composed of local governments, industrial members, academic organisations and research institutes.
Q. How is oneM2M being used in CityHub and what value does the standard provide?
JS. oneM2M is of course used as one of several Smart City IoT platforms alongside other legacy city platforms. All the data collected from various component Smart City systems are described using semantic information which is being standardised by oneM2M. This is taking place in a new oneM2M Work Item (WI-0094) on 'Ontologies for Smart City Services' in the oneM2M Technical Plenary.
In addition, the CityHub will enable semantic features standardised in oneM2M specifications such as semantic mashup and semantic annotation. In addition, further semantic technologies will be developed in CityHub and these may be used as a future input to oneM2M standardisation.
As all the data in CityHub's databases are stored with semantic information based on the standardised ontology, oneM2M applications and services can use this information to enrich Smart City services.
Q. What can cities and IoT solution providers learn from this work?
JS. A Smart City is not just an IoT based city nor is it a city with good infrastructure. A Smart City is a city with various components such as an IoT platform, standardisation, governance, interoperability, security and privacy. It also has a sustainable framework to accommodate new technologies. So, the CityHub experience will provide a way for IoT solution providers to understand how to build a sustainable Smart City. In addition, TTA and KETI are collaborating to validate and certify Smart City infrastructures based on lessons learnt from oneM2M testing and certification.
A data centric IoT service layer platform is very important for Smart Cities and oneM2M has been moving in this direction for some time. There are several Work Items, for example, on Smart Device Template (SDT 4.0), semantic enablement, ontologies for Smart City services and data analytics to trigger enhanced actions. In this regard, oneM2M is very synchronised with the CityHub project. As CityHub validates standardised Smart City service ontologies, missing ontologies will be reported back to oneM2M to enhance its standardisation activities.
In the future, the CityHub Smart Cities may be used as a testbed for oneM2M technologies, as well as a resource for experimentation and learning.