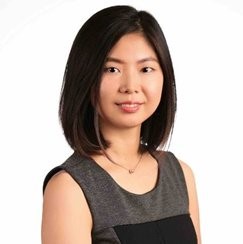 July 2020 - Dr. Shane He is a standardization professional specialist at Nokia (Bell Labs & CTO), concentrating on IoT standardization and vertical industries. She currently serves as the Chair of oneM2M's Requirements & Domain Models (RDM) Working Group. She is also leading the study of IoT architectures and protocols in ITU-T, serving as the Rapporteur of Q3/20 (IoT Architectures, management, protocols and QoS).
Q: You spoke about data interoperability during a recent oneM2M webinar. How do you define that?
SH: "Data interoperability" includes two key words - "data" and "interoperability" - neither of which is easy to be fully perceived and defined. "Data" is a very common word that people use every day whether they are talking about digital technologies or activities related to daily life. But in fact, it takes many forms in different domains, and can be formatted and transformed as needed. The term "interoperability" is defined as "the ability of two or more systems or components to exchange information and to use the information that has been exchanged" in the IEEE's Standard Computer Glossary. Experts from different industries may see interoperability as the interactions between entities at different levels: systems, interfaces, semantics, etc. But the key point here is how to exchange and use exchanged information that links interoperability and data together.
Interoperability is highly dependent on data modelling. Data producers and providers require a common understanding of how data is structured in order to exchange it across systems and publish it to the data market. If you consider data as a set of resources, just like water, it is shapeless. Then data modelling is like putting water into standard bottles with tags to give it another level of meaning and value.
In general, data interoperability makes it easier for data providers to create data in a sustainable way and to exchange information with one another. That makes services, applications, and solutions more efficient and flexible through better use of exchanged data.
Q: What is an example of data interoperability in practice?
SH: We have an ongoing work item in oneM2M about Industry Domain Enablement which is a very good example. This work, which began as part of oneM2M's Release 2 efforts, enables interworking between the industrial automation data exchange standard, OPC-UA, and oneM2M. This means we can syntactically understand the profile of an industrial domain object, e.g. a switch or PLCs which support OPC UA, and find possible solutions for oneM2M entities to discover OPC UA devices. To achieve this, oneM2M defines an Interworking Proxy Entity (IPE), which provides interoperability at the syntactic level. We have progressed since then and our current work for Release 4 focuses on interworking between the OPC-UA information model and the oneM2M information model.
To support the semantics features of industrial domain use cases, this work item is going to map OPC-UA Information Models onto oneM2M Smart Device Template (SDT) 4.0 Information Models. This will make it possible to use oneM2M semantics functions, such as the Semantic Reasoning Function, which complements and adds a layer of value on top of OPC-UA's data exchange functionality. For those interested in the technical details, there is more information in TR-0049 (Rel.4).
The purpose of this work is to make OPC-UA and oneM2M semantically interoperable. It makes it easier to exchange information between industrial systems that use OPC-UA standards and IoT systems that use oneM2M standards. This cross-mapping work creates new opportunities for both sides via cross-domain services. For example, it becomes possible to form direct links between the smart home domain and retail or manufacturing domains. This is just one illustration of oneM2M's work on data interoperability. We are active on several domain enablement work items from an information modeling perspective. I would say, greater interoperability brings greater opportunity.
Q: What oneM2M activities are currently focused on the data interoperability challenge?
SH: In my opinion, the first challenge is that there is no single "right" way of representing information. Some data structures are created for special operational processes (e.g. passenger information management for security check). Others are created for data monitoring and sharing (e.g. air quality monitoring data in cities). It is very difficult to ensure all these data are mapped to a common data structure. In oneM2M, we work on the Smart Device Template (SDT) which at least provides a solution to make it possible at the IoT device level.
The second challenge is to find the balance between data interoperability and data management and governance. That is because interoperability is less a technology problem and more a data management and governance issue. Different legal and regulatory frameworks set the boundaries for information exchange processes. International and domestic laws, contractual agreements, licenses, and corporate policies define what data can be shared and integrated and how data can be shared for example.
From oneM2M's perspective, we are doing our best to provide technical solutions to ensure the data is comprehensive. As an example, we have a new feature in Release 4 about Public Warning Services which is based on the study of several national and regional public warning systems. We aim to conform with standards and comply with applicable laws and regulations. Since these systems handle personal data, we are working on GDPR and PIPA support issues. We will keep working on coordination with other organizations and entities on the best approaches to sharing and exchanging data.
Q: Could you provide more details about the SDT and how it helps to meet the data interoperability challenge?
SH: The SDT is a template method which is used to model the capabilities, actions, and events of connected devices. The intent of the SDT is to be able to model any type of connected device using a well-accepted and standardized format. The main application of SDT is to enable a uniformly structured API for applications that need to interact with connected devices. Usually, these applications would communicate to devices using an abstraction or service layer or cloud platform as an intermediary logic. This layer usually "hides" the technology-specific, native language format of devices of different technology type from the applications.
To some degree, the interoperability benefits can be obtained without full SDT interoperability. For example, the most common functions can be modeled with SDT and more particular functions can be modeled with technology-specific, or domain-specific aspects.
In oneM2M Release 4 we also provide technical specifications of SDT-based information model and mapping for several vertical industries. It contains more than 110 ModuleClass and 60 DeviceModel in multiple verticals such as home, healthcare and railway domains. Our target is to find consensus amongst various standards development organizations (SDOs) and industry alliances to derive a common approach for device modeling.
Q: Could you clarify a bit more about the public warning services?
SH: The motivation of this work is how public warning solutions can be extended for IoT systems, and how warning information can also be consumed by devices, things as well as human beings.
We started our work by studying many public warning systems. These include the Integrated Public Alert and Warning System (IPAWS) in the USA, Germany's national Modular Warning System (MoWaS), DMB (Digital Multimedia Broadcasting) and CBS (Cell Broadcasting Service) used in Korea and, J-ALERT which is the nationwide immediate alert system in Japan. From this, we defined abstract data models for public warning services based on service flow from those systems and use cases in order to define an SDT information model. This work indicated how to represent public warning information on the oneM2M system and how to deliver warning messages to oneM2M devices efficiently.
COVID-19 is a critical global public health issue and shows the importance of having an effective public warning system. Many governments and administrations have requirements to publish warnings to citizens and to collect data from other systems. The new features of oneM2M provide better support to these critical needs.  
Q: When can we expect to see the results of these initiatives?
SH: We are going through our final stages of checks to freeze Release 4 with the intention of publishing the work I have described towards the end of 2020.