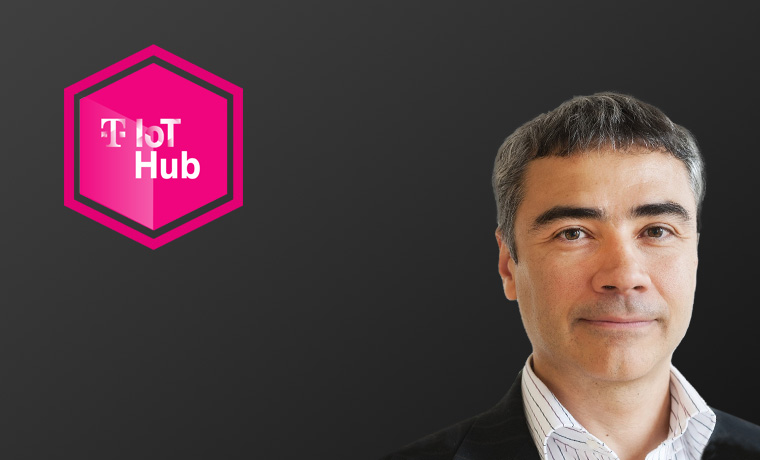 Andre Dutra of Deutsche Telekom discusses important market challenges in deploying IoT systems and some recent work to demonstrate cross-vendor interoperability. He also shows how to marry established industry standards, taking LWM2M as an example, with oneM2M's open standard to build complex IoT systems.
Q: Would you begin by introducing yourself?
AD: I am an Enterprise Architect with technical responsibility in the technology department of Deutsche Telekom's IoT business. I have over 20 years of experience in the IT industry, most of it in telecommunications. Originally from Brazil, I have been working in Germany for the last 15 years in various architecture and solution leadership roles in IT and Business Support Systems (BSS).  At the moment I am mainly working on T IoT Hub. As an Enterprise Architect, I am responsible for ensuring that the end-to-end architecture of the T IoT Hub remains consistent, competitive, and efficient as it evolves to meet new business requirements.  
Q: Tell us a bit more about DT's IoT business unit.
AD: The business unit operates as an independent company owned by Deutsche Telekom (DT). The  T IoT Hub is a key element of DT's strategy and our way of bringing IoT solutions to market.Operationally, we are connected to many different departments within the DT Group. In a virtual sense, we are quite a large organization. DT IoT offers a wide range of innovative products that combine DT IoT Connectivity with devices, platforms, and services to provide our customers with a basis for implementing their IoT use cases. 

Q: What kinds of challenges are you facing in the IoT sector?
AD: The first thing we have to understand is that the IoT space is very fragmented. There are a lot of players when you think about devices, servers, protocols, and platforms. Many of these components use proprietary technology, which makes integration difficult. And that is before you get into situations where you are integrating different applications.  If you look at it from the user's perspective, companies have a hard time finding devices that speak the same language. Then you have to deal with IoT platforms and their use of proprietary APIs. This means that companies are steered into designing their solutions around specific devices and platforms.  What should happen is that users should design solutions around their use cases and application needs. Technology choices should adapt to customer needs, not the other way around. This is why standards are important. 
Q: That leads us to the oneM2M standard. How are you using it in DT?
AD: We use oneM2M as part of our technology stack. We chose it because it is standardized and reduces our risk of getting locked into proprietary protocols. It also provides a very solid architectural foundation in terms of interfaces and data structures, which saves a lot of time when you are designing a platform.
I mentioned earlier the challenge of fragmentation and what that means in terms of mixing and matching different technologies and vendor components to create custom solutions. As we can see, oneM2M was designed to be a standard and to connect many different environments. From an architectural point of view, it is built for interoperability.
oneM2M is also very flexible. It allows designers to connect many different things. In fact, you can use oneM2M to connect things that were not designed to connect to oneM2M. This allows you to incorporate legacy devices and proprietary systems into a larger IoT solution.
Q: You gave a presentation at ETSI IoT Week 2022 about the ability to mix technologies and components. What were the goals and results of that work?
AD: The work I talked about addresses the challenges customers face when they need to integrate different technologies for their IoT solutions. Let's start with the fact that there are a lot of platforms on the market that rely on proprietary APIs and protocols. There is no common language, so customers are forced down the path of system integration. Our vision with the project was to create an interoperability layer, based on standards of course. Specifically, we wanted to take data from devices and platforms and make it available in a standardized format. When we do that, we provide amazing flexibility to mix and match devices, platforms, and applications. To implement these ideas, we used DT's T IoT Hub, which includes a oneM2M server or Common Services Entity (CSE). One of its uses is for device management orchestration. In our implementation, for the demonstrator, we wanted to start working with a specific protocol and chose LWM2M, which is commonly used in the IoT industry as it is available on many chipsets. LWM2M is a protocol for device-to-server communication. It does not provide an API for connecting applications. In our implementation, we used a standard LWM2M server provided by Nokia and integrated it into the CSE using an IPE (Interwork Proxy Entity) which is an adapter in oneM2M terminology. Then we collected the LWM2M objects and represented them using oneM2M containers. One of the most interesting things we learned is that the generic 'container' structure defined in oneM2M is very good for representing LWM2M object structures. Containers are a simple but very powerful data structure in oneM2M. Developers can put any data into a container. Containers also support hierarchical data structures and can be adapted to different data formats. Used in combination with oneM2M's API, an application can search and discover any LWM2M object and access that object via the oneM2M API. With this arrangement you can see that we have a flexible way to connect applications, platforms, and devices. 
Q: Was the demonstrator a one-off, experimental project?
AD: You have to remember that the T IoT Hub is a production system, so the development that we demonstrated is actually part of that production system. This means that customers can access the end-to-end ability to connect applications to platform servers and to devices. As we went through the implementation process, we encountered a few surprises. One thing we learned is that while LWM2M is a standard, the implementations vary from vendor to vendor. In situations where a customer is using devices with LWM2M capabilities from different vendors, oneM2M effectively harmonizes system management across the entire deployment. This is an important benefit that users can take advantage of through our T IoT Hub. 
Q: oneM2M has grown to be quite a large standard over time. What is your advice to implementers that might be worried about the amount of information they need to digest?
AD: Building any system takes effort. oneM2M is a comprehensive standard, so I can understand the concern about having to learn a lot of new information. However, as oneM2M is a modular standard, you do not have to implement everything at once. If someone is afraid of the scope of oneM2M, they should start small and grow as they need to. Of course, you have to invest some time to understand the principles. There are good developer resources to help.  
In our case, DT is active in the standardization process in addition to applying the standard. Our T IoT Hub product team has access to colleagues who are contributing to oneM2M's standardization activities. This allows us to be close and understand the standards. From our implementation experience, we can also contribute to the standardization process with ideas for new features. This allows everyone in the IoT community to learn faster.
Q: Many organizations work with hyperscalers and system integrators in the current market structure. Why do adopters go down this path?
AD: Both types of organizations are addressing market gaps, which explains the choices adopters are making. Hyperscalers seek to monetize their market reach. They add value through the development environment and tools they provide. In the case of system integrators, they may bring specialized knowledge and address complex integration needs. Ultimately, given the size of the IoT market and its fragmentation, everyone needs to work together, and standardization is a great way to create an ecosystem. In my opinion, standardized offerings can be useful for hyperscalers and system integrators.
I also think that customers need to be smart about how they work with vendors. They should try to go down the path of standardization and build flexibility into their choice of vendor partners while retaining ownership of design decisions.
Q: Are there new use cases coming up in your area where interoperability is important?
AD: Interoperability is at the heart of everything we do. While I can't talk about customer use cases right now, I can say that customers are looking for simple ways to manage different components in their deployments. They also understand that the IoT data they collect will be distributed, so that's another perspective on interoperability that I hope we can discuss in the future.
Q: Do you have any closing thoughts or advice to organizations in the IoT sector?
AD: My main recommendation is to look at standards and solutions from companies that support standards, from applications up to the connectivity layers. Standards make life easier. Easier to integrate with other components. And easier to add more devices and applications to systems as they grow.