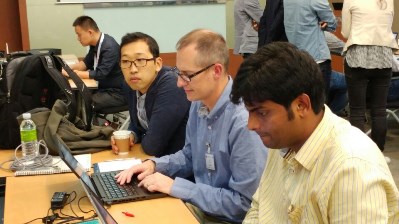 Co-organised by oneM2M's founding partners Telecommunications Technology Association of Korea (TTA) and European Telecommunications Standards Institute (ETSI), oneM2M Interop 2 gave organizations implementing oneM2M standards the opportunity to validate interoperability and check end-to-end functionality via oneM2M interfaces.
The European Commission and the Korean Ministry of Science, ICT and Future Planning supported the free event which took place in Seongnam, South Korea. Following the success of the recent event, oneM2M now plans to host similar sessions more regularly.
"Like our first interop event, this second session was a great success and well-attended, showing the importance of interoperability to the whole industry," said oneM2M's Technical Plenary Chair Dr. Omar Elloumi, of Nokia. "The full promise of IoT will only be realised if the technology is truly interoperable and these testing events provide a significant step towards that."
Testing took place based on test scenarios described in oneM2M specification TS-0013. The following oneM2M Release 1 specifications were used by implementations at this event: TS-0001 (Functional Architecture), TS-0004 (Service Layer Core Protocol), TS-0008 (CoAP Protocol Binding), TS-0009 (HTTP Protocol Binding) and TS-0010 (MQTT Protocol Binding).
The full list of organisations which participated in this event is: Anritsu Corporation, AT4WIRELESS, C-DOT, CETECOM, Easy Global Market, ETRI, Handysoft, HERIT, Hewlett Packard Enterprise, Huawei Technologies Co., Ltd, InterDigital, KETI, KEPCO, KT, LAAS-CNRS, LG Electronics, LGU+, MODACOM, NTT, Sejong University and Sensinov.
About oneM2M
oneM2M is the global standards initiative that covers requirements, architecture, API specifications, security solutions and interoperability for Machine-to-Machine and IoT technologies. oneM2M was formed in 2012 and consists of eight of the world's preeminent ICT standards development organizations: ARIB (Japan), ATIS (North America), CCSA (China), ETSI (Europe), TIA (North America), TSDSI (India), TTA (Korea), and TTC (Japan), together with seven industry fora, consortia or standards bodies (Broadband Forum, CEN, CENELEC, GlobalPlatform, HGI, Next Generation M2M Consortium, OMA) and over 200 member organizations. oneM2M specifications provide a framework to support applications and services such as the smart grid, connected car, home automation, public safety, and health. oneM2M actively encourages industry associations and forums with specific application requirements to participate in oneM2M, in order to ensure that the solutions developed support their specific needs. For more information, including how to join and participate in oneM2M, see: www.onem2m.org.
PR Contact
Michelle Mahoney
This email address is being protected from spambots. You need JavaScript enabled to view it.
+44 (0) 1636 812 152