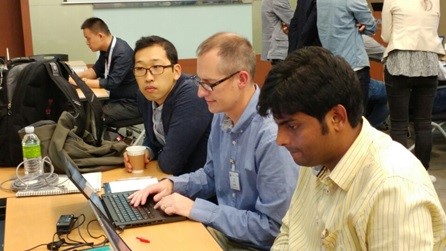 Participants at a previous oneM2M interop event


Interop 6 â " hosted by oneM2M founding partners TTA and ETSI and supported by the European Commission â " will take place at the Sofitel Washington DC Lafayette Square, Washington DC, from Monday, July 9 to Friday, July 13.
The Washington location has been strategically chosen as North America continues to dominate the global IoT market, with Grand View Research predicting it will grow at a CAGR of 17.3% between 2018 and 2025.
"The new tests we are introducing at Interop 6 will take us to the next level in ensuring interoperability across the IoT," said Laurent Velez, Technical Officer at oneM2M. "It is vital that our testing methods evolve and that we continue to implement effective new ways to offer guidance for those already using and those breaking into the IoT space. The benefits of this kind of testing cannot be underestimated with a constant stream of new and innovative devices coming into the IoT."
Interoperability and conformance testing at Interop 6 will be based on Release 1 and Release 2 specifications. Brand new tests, including announcement, timeSeries, pollingChannel, and blocking resource access, will be carried out alongside existing tests, as defined in oneM2M TS-0013 for interoperability testing and TS-0018/TS-0019 for conformance testing.
For more information and to register for the free-to-attend event â " which is open to both oneM2M member and non-member companies with oneM2M implementations â " please visit: http://www.etsi.org/news-events/events/1298-onem2m-interop-6. Registration closes on June 22.
For more information about oneM2M, see: www.oneM2M.org.
About oneM2M
oneM2M is the global standards initiative that covers requirements, architecture, API specifications, security solutions and interoperability for Machine-to-Machine and IoT technologies. oneM2M was formed in 2012 and consists of eight of the world's preeminent standards development organizations: ARIB (Japan), ATIS (U.S.), CCSA (China), ETSI (Europe), TIA (U.S.), TSDSI (India), TTA (Korea), and TTC (Japan), together with four industry fora or consortia (CEN, CENELEC, GlobalPlatform, OMA SpecWorks) and over 200 member organizations. oneM2M specifications provide a framework to support applications and services such as the smart grid, connected car, home automation, public safety, and health. oneM2M actively encourages industry associations and forums with specific application requirements to participate in oneM2M, in order to ensure that the solutions developed support their specific needs. For more information, including how to join and participate in oneM2M, see: www.onem2m.org. 
PR Contact
Jayne Brooks
This email address is being protected from spambots. You need JavaScript enabled to view it.
+44 (0) 1636 704 888