Roland Hechwartner summarizes the latest developments from oneM2M's recent Technical Plenary #56 in this interview. In addition to representing Deutsche Telekom (DT), Roland is the Chairman for oneM2M's Technical Plenary (TP) and responsible for the coordination of the overall management of the technical work within the TP and its Working Groups.
Q: Let us begin with a summary of this TP?
RH: This TP took us a step closer to the way we used to work before the pandemic. We organized TP56 as a hybrid meeting, hosted by ETSI at their premises in the south of France. We held the usual TP sessions across all working groups.
Interestingly, for this TP, we tackled several broader topics beyond our technical standardization activities. There were elections for leadership posts, planning around future innovation and market outreach topics and an update on our IoT sustainability initiative. 2022 is oneM2M's tenth anniversary year so we did not miss the in-person opportunity to organize a celebration.
Q: As regards core activities then, what were the highlights of TP56?
RH: The main objectives were to check the status of Release 4 documents for ratification, to progress Release 5 stage 1 work and initial work on stage 2. For those not closely involved in oneM2M, stage 1 is where we discuss use cases and derive new requirements for incorporation in the Requirements Technical Specification. And stage 2 is where we define or further enhance architectural components which are needed to fulfil the requirements.
Part of what makes formal and open standards so effective is the governance framework we follow. You can see the importance of administrative and good governance principles in the recent European Commission's political agreement on standardization. In oneM2M, our organizational model and procedures are very important. That is why we take time on properly ratifying new releases, for example. Another aspect is the way that members get to nominate and vote on leadership positions. During this TP, we held elections for the position of a TP chair, TP Vice Chairs as well as the TDE WG chair and Vice Chairs for the RDM and TDE WG.
Q: So, who are the new appointees?
RH: The following candidates were elected by acclamation. Each person is denoted by their organization and the regional standards development organization, or Partner, that they are affiliated to.
TP Chair: Roland Hechwartner, Deutsche Telekom, ETSI
TP Vice Chair: JaeSeung Song, Sejong University, TTA
RDM Vice Chair: TaeHyun Kim, SyncTechno Inc, TTA
SDS Vice Chair: SeungMyeong Jeong, KETI, TTA and Wei Zhou, CICT, CCSA
TDE Chair: Andrew Min-gyu Han, Hansung University, TTA
TDE Vice Chair: Sherzod Elamanov, SyncTechno Inc, ETSI
A few positions remain vacant, and the nomination period remains open for elections that will take place at the TP57.
The task of organizing and managing standardization activities is not a trivial one. I want to send big thank you to all the candidates for their willingness to help with the work of oneM2M.
The elections meant that a few people were standing down from their positions. At the opening session of TP, I spoke on behalf of all members and chairs to thank Marianne Mohali for her work as Vice Chair of the RDM WG over the past 2 years. We also thanked Dale Seed for his work as Vice Chair of the Technical Plenary for the past 2 years.
Q: Returning to technical standardization activities, what plans are underway for future innovation?
RH: Like me, I'm sure you can't read anything technical without coming across the metaverse term. Although the concept is not fully defined as yet, our members recognize that there will be inter-dependencies between metaverse experiences, IoT sensors and devices.
Current metaverse services mostly focus on content which looks similar to the early stage of the internet. As the internet has been extended to the Internet of Things, likewise, the metaverse will expand its scope to connect the real physical world. This means that the oneM2M service layer is well placed at the connecting point between metaverse services and the real world. For this reason, a new work item on "Enablement of IoT in the metaverse" was approved to study the use of oneM2M in the context of the metaverse.
The members supporting the new work item are: Hansung University, Nokia, KETI, and Sejong University. The scope of work involves a feasibility study of key use cases and requirements to enable metaverse services based on IoT. There is also an intention to define the metaverse-IoT concept and potential solutions for metaverse enablement. The scope of work particularly focuses on metaverse devices to define their information model as a part of oneM2M SDT (Smart Device Template) based information model specification.
As oneM2M develops its new features for IoT in Release 5, the metaverse will be a good candidate and a key feature of Release 5.
Q: What activities are planned to reach out to communities outside the TP?
RH: Many organizations are more interested in using standards that in developing technical standards. For that reason, we are putting more effort into making oneM2M standards more accessible.
Following discussions in the Testing & Developers Ecosystem (TDE) working group, members proposed a plan to establish closer relations with universities. The objective is to grow the developer community and to get support for development and maintenance of tools used and developed for the use in oneM2M. The suggestion was supported by the members of oneM2M. There are plans to hold opening discussions with interested Universities in South Korea at the next oneM2M meeting.
Of more immediate use, my Deutsche Telekom colleague Andreas Kraft presented some software and video materials to educate developers and get them familiar with oneM2M technology. With Ken Figueredo and others in oneM2M, he has produced a set of interactive code examples based on Jupyter Notebooks supplemented by YouTube videos. These are accessible here. So far, there has been a very positive reaction because each video talk takes fewer than ten minutes to consume.
One final outreach initiative concerns our initiative on IoT for sustainability. There is a growing interest in the topic from prospective users outside the technology industry. Over the past few months, several oneM2M members collaborated on a second White Paper directed more at technology vendors and solution providers to help them build sustainable IoT systems. This second WP, entitled "How oneM2M is Enabling More Sustainable IoT Deployments" outlines eight techniques to improve the sustainability characteristics of IoT deployments. resents a set of practical methods to address these challenges. These include techniques for reducing energy consumption, increasing system longevity, and minimizing the amount of e-waste in IoT deployments.
Q: We've had remote celebrations for oneM2M's tenth anniversary. How did the in-person festivities go?
RH: I want to thank our founding Partners, individual members and the MARCOMs committee for their different efforts to celebrate "oneM2M at 10". At this TP, MARCOMs dedicated a session to highlight the last ten years with photos and contributions from former delegates and chairpersons of oneM2M. I know that everyone will want to thank ETSI for hosting a social event and to Sensorise (India) for sponsoring a celebratory memento.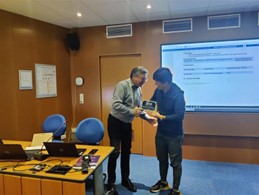 We also held a special award session to present the oneM2M Awesome Achievement Award to Professor JaeSeung Song. This celebrates the fact that JaeSeung is the only person who has attended every single meeting of the TP since it started.
Q: To close, what plans are there for the next TP?
RH: The next meeting, TP57, will be held as hybrid meeting, hosted by TTA at the Global IoT Testing & Certification Center, in Pangyo, Korea. The key dates are from November 28 to December 2, 2022.
We have planned other events to coincide with TP57. There will be an award ceremony of the international Hackathon organized by KETI on the day of the opening TP and a oneM2M conference on December 1st and 2nd.
Last, but not least, in the week following the TP we have scheduled the 8th Interoperability Testing event. This is co-organized by TTA and ETSI and will take place from 5 to 7 Dec 2022 also at TTA's Global Testing & Certification Center in Pangyo, Korea. The scope for interoperability testing covers oneM2M Releases 2, 3 and 4 based on TS-0001 Functional Architecture and TS-0004 Service Layer Core Protocol Specification resulting from changes at TP#56. Solution providers will have an opportunity for interoperability testing over the defined bindings to HTTP/CoAP/MQTT/WebSocket protocols as well as to carry out conformance tests.