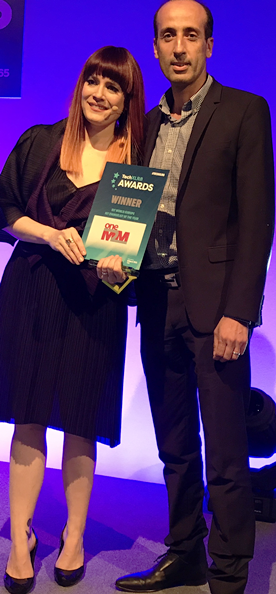 Held at IoT World Europe, in London, the TechXLR8 awards celebrate outstanding contributions in converging technology areas, covering industries such as 5G, virtual and augmented reality, the IoT, cloud, connected automotive and artificial intelligence.
"As the only representative of a standards organisation to be shortlisted for this award, I am thrilled to have been named the winner," said Dr. Elloumi. "Without interoperability, the IoT will not reach its full potential and progress to mass market adoption and we see this award as recognition of that fact. It is also a tribute to all of oneM2M's members, who are currently working on our next set of specifications, Release 3, as we continue to unlock the promise of the IoT."
Dr. Elloumi, of Nokia, heads up the Technical Plenary of oneM2M, the global standards initiative for Machine-to-Machine (M2M) and the IoT. Over the past year, he has played a leading role in the ground-breaking work of the organisation, which includes the launch of its Release 2 specifications to incorporate interworking, end-to-end secure information exchange and semantic interoperability. Dr Elloumi is regularly invited as a panellist or keynote speaker and is recognised for evangelising IoT advancements to the industry at large.
The judges highlighted how this has resulted in true advancement of the IoT, with major companies such as Hewlett Packard Enterprise, Sensinov, Huawei, InterDigital and NEC using oneM2M's standards in real-world deployments.
For more information about oneM2M, please visit http://www.onem2m.org/ and for more information about the awards, visit https://tmt.knect365.com/techxlr8/awards.
About oneM2M
oneM2M is the global standards initiative that covers requirements, architecture, API specifications, security solutions and interoperability for Machine-to-Machine and IoT technologies. oneM2M was formed in 2012 and consists of eight of the world's preeminent standards development organizations: ARIB (Japan), ATIS (U.S.), CCSA (China), ETSI (Europe), TIA (U.S.), TSDSI (India), TTA (Korea), and TTC (Japan), together with six industry fora or consortia (Broadband Forum, Continua Alliance, GlobalPlatform, Next Generation M2M Consortium, OMA) and over 200 member organizations. oneM2M specifications provide a framework to support applications and services such as the smart grid, connected car, home automation, public safety, and health. oneM2M actively encourages industry associations and forums with specific application requirements to participate in oneM2M, in order to ensure that the solutions developed support their specific needs.
For more information, including how to join and participate in oneM2M, see: www.onem2m.org.
PR Contact
Jayne Garfitt
This email address is being protected from spambots. You need JavaScript enabled to view it.
+44 (0) 1636 812 152