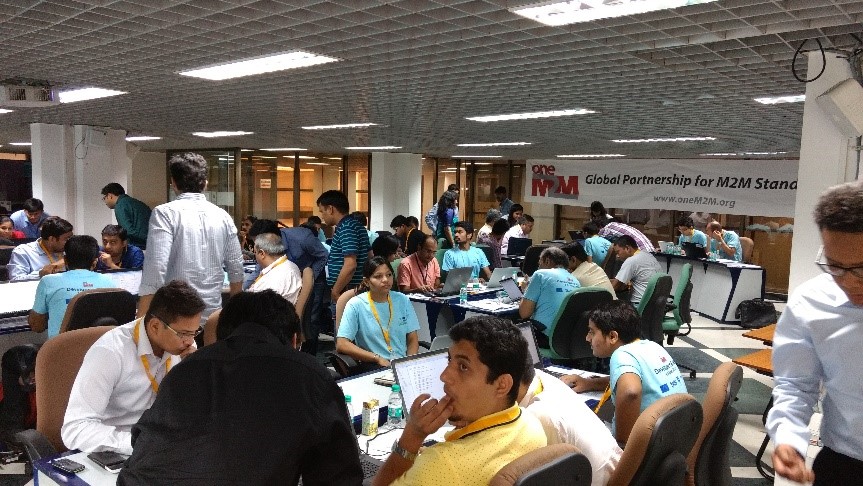 The workshop, co-organised by the EU-India Cooperation on ICT Standardisation with input from ETSI, TSDSI and C-DOT, saw developers meet to exchange expertise on IoT software applications and share their ideas and experience.
Held at C-DOT's New Delhi campus, the event provided an overview of oneM2M's global standards and the tools that are enabling interoperability and market growth. During the event speakers from across the globe shared their insights on the role of standards in the IoT ecosystem.
"The idea behind this new initiative was to create an interactive and stimulating exchange platform for developers, allowing an opportunity for both in-depth discussion and hands-on exercises," said Laurent Velez, oneM2M's Technical Officer. "Events such as this are crucial to spreading industry standards on a global scale. Interoperability and standards create an abstract layer for developers to build on, allowing them to focus on application logic rather than on communication, device management, registration, security etc. India is a huge potential market for the IoT and the spread of best practice and standards is vital."
The "oneM2M Developer Event" is an important step towards the growth of oneM2M standards among the application developer community, bringing together a broad range of participants from across the industry and academia.
The second day of this two-day event was specifically focused on "development of the oneM2M application by participants," assisted by mentors from C-DOT, thus allowing them to understand the oneM2M architecture and concepts, by actively participating in the practical exercise. By the end of Day 2, most of the participants were able to demonstrate their oneM2M applications working with C-DOT's oneM2M IN platform CCSP (C-DOT Common Service Platform). The feedback from participants was extremely good and there have been requests for further events of a similar nature both in India and worldwide.
Alongside on-site tutorials showing how to develop IoT applications and exercises involving existing oneM2M platforms, the event was also broadcasted to the C-DOT campus in Bangalore.
The event formed part of the 'India-EU Cooperation on ICT-Related Standardisation, Policy and Legislation' project, which promotes closer alignment between India and Europe on the production and implementation of ICT standards. oneM2M type 1 Partners ETSI and TSDSI have worked extensively on a series of machine-to-machine and IoT standardisation initiatives as part of this project alongside C-DOT, which is actively involved in the implementation of oneM2M service layers across India.
For more information about the event and future developer workshops, please visit www.onem2m.org.
About oneM2M
oneM2M is the global standards initiative that covers requirements, architecture, API specifications, security solutions and interoperability for Machine-to-Machine and IoT technologies. oneM2M was formed in 2012 and consists of eight of the world's preeminent standards development organizations: ARIB (Japan), ATIS (U.S.), CCSA (China), ETSI (Europe), TIA (U.S.), TSDSI (India), TTA (Korea), and TTC (Japan), together with six industry fora or consortia (Broadband Forum, CEN, CENELEC, GlobalPlatform, Next Generation M2M Consortium, OMA) and over 200 member organizations. oneM2M specifications provide a framework to support applications and services such as the smart grid, connected car, home automation, public safety, and health. oneM2M actively encourages industry associations and forums with specific application requirements to participate in oneM2M, in order to ensure that the solutions developed support their specific needs. For more information, including how to join and participate in oneM2M, see: www.onem2m.org.
PR Contacts
Jayne Garfitt
This email address is being protected from spambots. You need JavaScript enabled to view it.
+44 (0) 1636 812 152