Live demonstrations of nine real-world deployments were presented.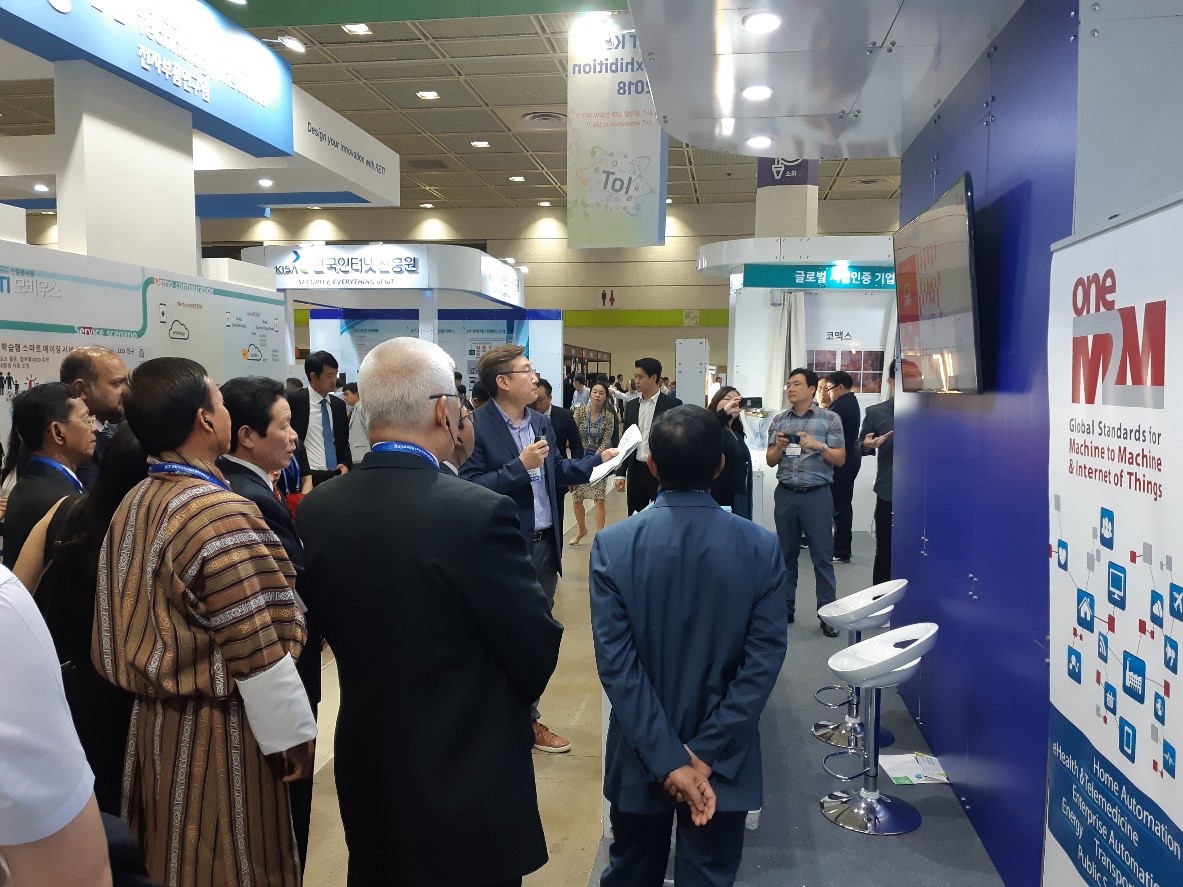 Smart city platforms, cloud-based platforms and testing tools and systems were among the installations showcased and presented on by ETSI, KDDI, KETI, InterDigital, ntels, Sensinov and Spirent Communications.
oneM2M's booth attracted a number of visitors at the event â " which took place at the COEX Convention Centre, in Seoul, South Korea from Wednesday September 12 to Friday, September 14 â " including a special visit from the Korean Ministry of Science and ICT and ICT Ministers from 11 countries, including Nepal, Laos, Malaysia, Sri Lanka, Philippine, Myanmar, Vietnam, Singapore, Bhutan, Brunei and Indonesia. Samsung Electronics of Korea and its partner companies in Africa also attended oneM2M's exhibition booth. The Director General of ETSI, Luis Romero, also paid a visit to the booth.
"oneM2M's presence at IoT Week Korea gathered key players from across diverse industry sectors and countries, including demonstrations by a wide range of IoT experts, such as telecom operators, testing companies, research institutes and a software company," said Kyoung Cheol KOO, Vice President of TTA. "This highlights that the industry is beginning to understand the true value of a universal, agnostic, IoT framework in achieving mass deployment of the IoT â " and this is not only being seen in Korea, but across the globe."
The full list of demos and companies who exhibited at oneM2M's exhibition stand include:
ETSI demonstrated its 'F-Interop platform - oneM2M test tool' which enables remote interoperability testing for different emerging IoT technologies.
KDDI showcased its 'Privacy Policy Manager (PPM)' which permits end users to manage their personal data generated from IoT devices according to their privacy preferences. The PPM is defined as an external authorisation system in oneM2M's recently published Release 3 and Release 2.
KETI exhibited its products 'Mobius' and '&Cube' which are based on oneM2M's standard platform implementations. The products are oneM2M authorised conformance testing systems and create an integrated operating environment for intelligent IoT services.
Korea's University of Technology and Education provided a live demo of how its highly accurate and reliable fire detection system â " which is based on OCEAN Mobius â " can detect fires using a compound sensor and Artificial Intelligence (AI).
Live demonstrations of InterDigital's 'Chordant Platform' â " which is based on oneM2M's platform â " highlighted how it can enable smart city solutions to unlock value from any data source. The platform can be interworked into 4G and 5G networks and provides a rich set of value-add services to complement those offered by network operators.
N2M's 'Smart City Platform with nTOMIoT & nTOMview' â " which has been deployed by the city of Goyang as part of its smart city model â " was demonstrated.
ntels showcased its oneM2M-based platform 'N-MAS Connectivity,' a common, open platform that provides functions commonly applied to any industry.
Sensinov's product 'Sensinov IoT' was also on display â " a standards-based interoperable cloud platform. Live demonstrations highlighted how the platform enables devices and applications to work together regardless of their vendors or origins. Thanks to its user-friendly interface, it also allows any users to integrate complex IoT systems in few clicks.
Spirent Communications' 'TTsuite-oneM2M' and how it provides a ready-to-use, standardised test solution for IoT and oneM2M conformance testing, covering all service layer functions, was also showcased.
During IoT Week Korea, oneM2M also hosted its fifth Industry Day which attracted more than 80 attendees. The Industry Day â " which also took place at the COEX Convention Centre, in Seoul, on Friday, September 14 â " included presentations from ETSI, Nokia, Qualcomm, iREXNET, Sensinov, Convida Wireless, KETI and TTA.
A presentation by LG CNS was also held, demonstrating how it is using oneM2M's specification in its IoT Platform INFioT, which is being used in its latest smart city management platform Cityhub. The platform is designed to play the role of a brain for a smart city by collecting and analysing data generated and sent by various city infrastructures via IoT technology.
The exhibition and Industry Day also delved into oneM2M's Release 3 specifications which were published last week, dramatically enhancing 3GPP interworking â " in particular cellular IoT â " and unlocking new capabilities to add value in industrial and smart home applications.
For more information on oneM2M's current work, visit: www.oneM2M.org.
About oneM2M
oneM2M is the global standards initiative that covers requirements, architecture, API specifications, security solutions and interoperability for Machine-to-Machine and IoT technologies. oneM2M was formed in 2012 and consists of eight of the world's preeminent standards development organizations: ARIB (Japan), ATIS (U.S.), CCSA (China), ETSI (Europe), TIA (U.S.), TSDSI (India), TTA (Korea), and TTC (Japan), together with four industry fora or consortia (CEN, CENELEC, GlobalPlatform, OMA SpecWorks) and over 200 member organizations. oneM2M specifications provide a framework to support applications and services such as the smart grid, connected car, home automation, public safety, and health. oneM2M actively encourages industry associations and forums with specific application requirements to participate in oneM2M, in order to ensure that the solutions developed support their specific needs. For more information, including how to join and participate in oneM2M, see: www.onem2m.org.
PR Contact
Jayne Brooks
This email address is being protected from spambots. You need JavaScript enabled to view it.
+44 (0) 1636 704 888