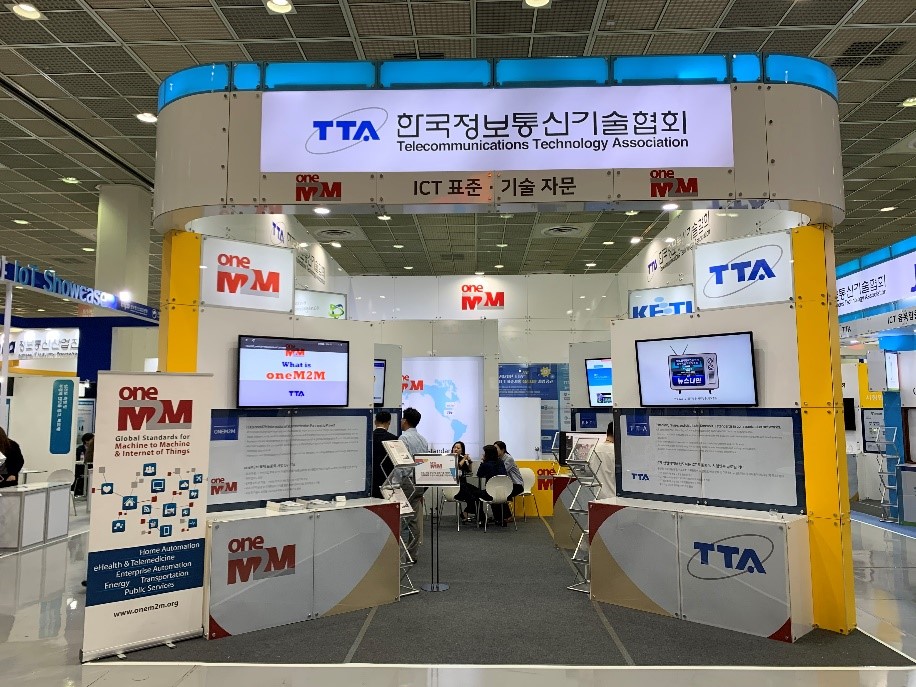 The booth demonstrated the evolving needs of the Internet of Things (IoT) sector and showed how operators can ensure efficient use of network resources with IoT devices.
At the event, held from Wednesday, October 23 to Friday, October 25 at the COEX Convention Center, Seoul, ntels' N-MAS Edge platform and the oneM2M-based data marketplace service on behalf of KET were displayed.
ntels' N-MAS Edge is a standards-based open IoT edge solution which minimises network data transmission delay and drives down management costs. While also helping to ensure data connection and increase flexible scalability, the platform integrates IoT devices so that they can connect and communicate in real time.
KETI's oneM2M-based data marketplace service, which allows users to sell and purchase data via the marketplace portal, is interworked with oneM2M's global standards-based platform. When a dataset is purchased, the purchase grants users' access to the data. It is a marketplace-oriented access control mechanism to oneM2M and is easier to get access privileges without data seller-buyer human interventions.
"Breaking new ground across the sector, operators worldwide have been considering cellular technology to be key to their IoT offerings. Therefore, the need to find a standardised way to reap the benefits of IoT data sharing has never been greater," Dr. Kyoung-Cheol Koo, Vice President at TTA. "If these devices are to reach their full potential, then efficient approaches for gathering and sharing IoT data, both at scale and across heterogeneous device populations must be found.
Dr. Koo continued: "This is especially true in South Korea, which is estimated to be the fifth largest contributor to the global IoT market. oneM2M multi-vendor rollouts across various smart cities in the country have already been successfully implemented, and as the market continues to grow and IoT-enabled devices proliferate, it is crucial that we drive home the importance of standards in enabling a harmonious, thriving IoT ecosystem."
In South Korea, the IoT market grew by an average of 22.6 percent between 2015 and 2018, and the country is expected to spend a total of $25.7 billion US Dollars on the IoT market in 2019.
Over the past few years, fragmentation and integration costs have slowed the global IoT market and contributed to the failure of several solutions launched in recent times. Today, the market is now in a place where more and more IoT applications are emerging and, for them to reach their full potential, they must be able to exchange data with one another.
A standards-based approach, such as oneM2M's, can unlock the full potential of IoT across a range of verticals. Presenting a great leap forward for operators looking to expand their IoT deployment capabilities and monetise IoT services in return, the solutions presented at the oneM2M booth at IoT Week Korea 2019 dramatically enhanced players' capabilities to deploy new services, meeting the demands of the new digitalised era.
At the event, focusing on 'IoT: Faster with 5G, Smarter with AI', participating companies showcased many IoT converged services such as smart office, smart wearables, air quality monitoring and other services that are related to smarter life, which are part of smart city services.
Deploying such solutions with different requirements and characteristics in terms of data volume, frequency and levels of latency, increases the need for an interoperable framework like oneM2M. As technologies continue to expand their global presence in the market, selecting a horizontal IoT platform eliminates vendor lock-in and ensures that these smart city services are scalable and cost-effective. 
Following the success of the event, oneM2M will continue its collaboration and further strengthen its presence in the market through participation in future events including oneM2M industry days and workshops. These will address how organizations looking to monetize the market can align oneM2M's specifications to deliver value across the Internet of Things sector, overcoming complex challenges within the ecosystem and setting the best practices for adoption.